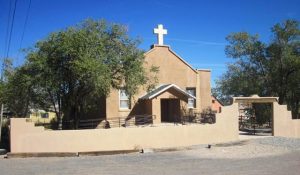 Construction of the chapel begun in September 1919, and on June 1920 the church was dedicated to St. Elizabeth of Hungary by the Most Rev. Albert Daeger, OFM DD. The chapel was blessed on 25th of September, which our Paton Saint Day St. Elizabeth is celebrated.
To improve safety and better access for wheelchair users or people with limited walking disabilities the village of Paguate renovated the church grounds and in June 2010 this was completed.
Paguate Catholic Church can be found 12 miles northeast of Laguna and 11 miles northeast of Highway 66.