Physical Location:
22 Bay Tree Road, Building B
Paraje, NM 87007
We are now located at the K Center!
Main Contact Information:
Pueblo of Laguna
Natural Resources Program                                                                       
P.O. Box 194
Laguna, NM 87026
Phone:(505) 552-7512
Fax: (505) 552-9770
Staff Members:
Raymond Lucero, Jr., Natural Resources Manager
Jacob Riley, Natural Resources Specialist
Donald Sarracino, Natural Resources Technician II/Dam Tender
Robert Natseway, Natural Resources Technician I/Dam Tender
Teresa Lucero, HFR Crew Leader
Hazardous Fuels Reduction Crew:  Francis Trujillo Sr., Mike Chavez, Harvey Thomas, Jr.
Program Overview
Mission Statement:
The Natural Resources Program is responsible for the protection and sustainable management of all natural resources within the exterior boundaries of the Pueblo of Laguna. Our primary goal is proper utilization and management of resources from a culturally sensitive, biological, and economically sustainable perspective for the well-being of the community.
Scope of Work:
The Natural Resources Program is responsible for the proper management of the following resource areas: Wildlife, Fisheries, Forestry and Woodlands, Watershed and Wetlands, Enhancement of Water Resources, Agriculture and Irrigation, Safety of Dams, Lands and Property, Minerals and Special Use, and Aviation and Air Space. Program services includes: distributing hunting permits for big/small game to Tribal and Non-Tribal members; permits for wood hauling and green wood to the Pueblo community;  administrative and technical assistance for the village farmers; management of wildlife on Pueblo lands; and the management and protection of the Silver Dollar and Mount Taylor park properties.
In efforts to accomplish program initiatives, Federal and State funding continues to be part of our Scope of Work for over 530,000-acres of Laguna Pueblo and lease land. Currently, the Program administers two (2) externally funded projects and two (2) pending projects.
Summary:
The Natural Resources program monitors the land, water and air of the entire 530,000 acres (830 square miles) of the Pueblo of Laguna, which includes parts of (4) counties (Bernalillo, Cibola, Valencia, & Sandoval). The landscape ranges in elevation from about 5,100 feet to over 10,000 feet above sea level. The terrain ranges from lowlands and river/stream bottoms, to high and colorful desert mesas, to steep and rugged mountain ranges. The Pueblo is located on the southern end of the Colorado Plateau. The volcanic activity of the geological past has left the region with vast areas of basalt and dark volcanic rock formations and even some cinder cones.
Vegetation varies from desert grasses and shrubs, in the lowlands, to vast areas of piñon-juniper, to high-country meadows with Ponderosa pines and aspens. In recent years, salt cedar, Russian olive and other invasive plants have spread along the streams and rivers of the Pueblo. Natural Resources is now fighting a constant battle against encroachment by these species in order to protect native vegetation.
Water Resources vary from some intermittent streams to perennial springs and seeps, and even a few perennial stream systems which are fed by springs and run-off from snow melt coming out of the high-country. A variety of earthen dams/tanks and windmills dot the range as well. The Natural Resources Program works to restore the natural flow and function of streams and springs from damage caused by non-native vegetation and wildlife. We also monitor water conditions throughout the Pueblo of Laguna.
Wildlife is rich and abundant in areas, making wildlife viewing and hunting a desirable activity for people from many backgrounds and geographic regions. Large mammals include, but are not limited to: Rocky Mountain elk, mule deer, pronghorn antelope, black bears, and mountain lion, which roam the Pueblo freely. Medium and small mammals include, but not limited to: coyotes, bobcats, badgers, foxes, raccoons, ringtail cats, beavers, muskrats, porcupines, whitetail prairie dogs, cottontail and black tail jack rabbits, a variety of bats, tassel-eared and red squirrels, rock and ground squirrels, various chipmunks, and variety of resident rodents. There is large variety of birds that inhabit the Pueblo year-round, as well as those that migrate through the area each year.
In addition to native wildlife, populations of feral horses, Barbary sheep, and Himalayan Tahr exist in some areas of the Pueblo. The Natural Resources Program is responsible for the management of these species as well as native wildlife.
Programs/Events:
Hunting programs exist for both Tribal and Non-Tribal members. Hunting applications and permits are available for the Pueblo of Laguna at the Environmental and Natural Resources office.  The 2015-16 Big Game Hunting Proclamation is now available, please call the office at (505) 552-7512 to request a copy or you may email:  info.nr@lagunapueblo-nsn.gov.  Tribal Big Game hunting opportunities include: Rocky Mountain Elk (bull and cow), Mule Deer, Pronghorn Antelope, Wild Turkey, Barbary Sheep, and Himalayan Tahr. Non-Tribal Big Game opportunities include: Rocky Mountain Elk (bull and cow), Himalayan Tahr, and Barbary Sheep (Aoudad).
Small game opportunities for both Tribal and Non-Tribal hunters include: Rabbits, Badgers, Coyotes, Raccoons, Quail, Muskrats, Bobcats, Squirrels, Ducks, Doves, Pigeons, and Foxes (red or gray). The Pueblo of Laguna is not a Game Park or Game Ranch. All animals are free-ranging and all hunts are fair chase opportunities, with no guarantees.
Hunters education programs are available several times per year through the program as well as through the Pueblo's Department of Public Safety-Conservation Program.  Both Programs collaborate with the State of New Mexico and list their classes with the
New Mexico Hunter Safety Program
.
Fishing is currently most popular at the Paguate Reservoir near the Village of Paguate.  Fishing at this location is not managed or monitored by the Natural Resources Program, but rather the Village of Paguate. The Paguate Reservoir is a small (approximately 18 surface-acres), but quite scenic cold-water reservoir located at an elevation of approximately 6,300 feet above sea level. Originally used for irrigation purposes for village farmers, the reservoir also provides fishing opportunities for recreational anglers.
Rainbow Trout stocked in the lake are from the Mescalero Tribal Fish Hatchery and White Mountain Apache National Fish Hatcheries.
Other Fishing opportunities are in development, but are currently not available.
Look for announcements for a Fishing Derby sometime this summer. 
The Pueblo of Laguna is a member of the Southwest Tribal Fisheries Commission.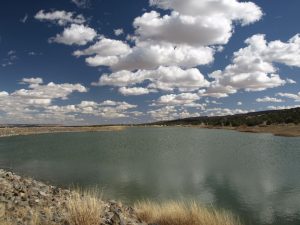 Paguate Reservoir Hours:  7:00 am to 7:00 pm,  Saturday – Sunday
Open during the Summer and Fall Season:  May to August
Fishing Permit Fees:    
Laguna Tribal Member $  10.00
Non-Tribal Member $  12.00
Seniors & Disabled $ 5.00
Children 12 Years & Younger $ 5.00
Fishing Rules
Limit 5 fish per day.
All fish must be over 10 inches to keep.
All fish smaller must be returned to the lake.
Barb less hooks only!!
Single hooks only. 
No boats allowed on the lake, only float tubes.
For more information about fishing at the Paguate Reservoir please contact the  Village of Paguate Mayordomo's at the Paguate Community Center (505) 552-9875.