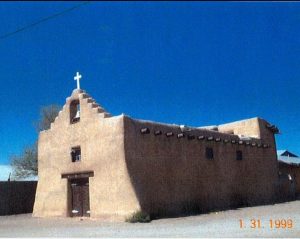 Sacred Heart of Jesus Church was begun in March of 1936 and on September 14, 1936 was dedicated by the Most Rev. Rudolph Gherkin, DD Archbishop of Santa Fe.
Building of the church was directed by Fr. Agnellus Lammert, OFM, and Fr. Kennth Robertson, OFM. The people of Mesita village helped with the construction of the church.
The village of Mesita celebrates three Patron Saints on August 15th, Feast of the Blessed Virgin Mary's Assumption into Heaven, St. Anthony, and Sacred Heart of Jesus.
Hanging in the back of the church you will see the life size picture of "Our Lady of Guadalupe" . This painting was brought from Mexico by an unknown Priest and was given to the church in memory of Jose Jerome Shiosee. Pearl Shiosee the daughter of Jose Shiosee is currently a Sister of the Blessed Sacrament, who goes by the name of Sister Mary Rosita Shiosee.
 In the 1940's Mr. Jose Shiosee, known as Earl, taught the local boys how to serve Mass as Altar boys. He taught local boys and girls Latin music and  Latin prayers till the children were able to sing and recite the prayers on  their own.
The Staff Officer for the next two years is Charles Poncho. The Church officials are Claire Poncho- Chairperson, Jean Martin – Vise-Chair person, Clarice Chavez- Secretary & Treasure
Mass is held every second and fourth week of the month at 5:00 pm. Occasionally, mass times are switched with other villages during the summer months. Notifications of mass times will be posted in the Sunday bulletin in the event Mesita Mass has changed for the week.