Program:
Law Enforcement Program
Department of Public Safety
Physical Location:
1 Mesita Industrial Pkway
Mesita Village, Interstate 40, Exit 117
Laguna, NM 87026
Telephone Numbers:
(505) 552-6666
(505) 552-6685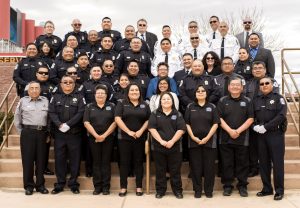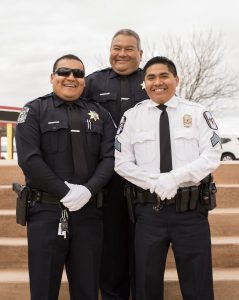 Mission:
The primary mission of the police department is the protection of life and property within the boundaries of the Pueblo. The primary focus of the police department is to improve the overall quality of life of the residents of the Pueblo and to create a safe environment for those who visit the Pueblo.
Law Enforcement provides 24-hour services to the residents and visitors of the Pueblo of Laguna.  Law Enforcement Officers are responsible for enforcing tribal and civil traffic laws, conducting accident investigations, participating in the court process, and responding to calls for service. These calls for service include, but are not limited to: reports of domestic violence, assault, battery, drug possession, neighbor disputes, and juvenile status offenses.  On occasion, calls for service may warrant an arrest.  Law Enforcement Officers also offer, upon request and approval, mutual aid to neighboring law enforcement agencies and communities.
The Laguna Police Department provides 24-hour emergency dispatch service for police officers and Fire/Rescue personnel. This service is provided reservation wide and includes the six villages and all roadways.
Staff Members
ADMINISTRATION:
Police Chief
Rudy B. Mora
Police Captain
Greg Concho
Special Operations Lieutenant
Kevin Torivio Sr.
Field Operatations Lieutenant
Richard Jose
Administrative Assistant
Davonna Kie
Public Safety Director
Paul Chavez
PATROL DIVISION:
Patrol Sergeants:
Isaiah Cheromiah
Patrol Division:
Officer Thomas Kohn
Officer Myron Footracer
Officer Rosslyn Lente
Officer Vincent Mariano Sr.
Officer Aneloy Dashee
Officer Shawn Peterson
Officer Leon Sarracino (SRO)
Officer Miles Henry
CRIMINAL INVESTIGATIONS BUREAU:
Criminal Investigations Sergeant:
Sergeat Brandon Mariano
Special Agent Keith Riley
Special Agent Maria Galvan
DEA Special Agent Travis Chavez
DEA Special Agent Eloy Montoya
HIGHWAY SAFETY DIVISION:
(Vacant)
Officer Isaiah Kelsey
Officer James Peterson
Highway Safety Administrative Assistant:
Beth Siow-Deutsawe
CONSERVATION DIVISION:
Open Space Sergeant:
Sergeant – Al Romero
Officer Jimmy Cheromiah
Officer Raphael Jose Jr.
Officer Sean Romero
Officer Devin Sarracino
Officer Angus Martinez
TELECOMMUNICATIONS DIVISION:
Dispatch Supervisor Chris Kie
Dispatcher Pauline Siow
Dispatcher Anita Louis
Dispatcher Brooke Cheromiah
Dispatcher Samantha Watson
Dispatcher Angel Ortiz
Dispatcher Katelyn Riley
Dispatcher Samantha Thomas
ANIMAL CONTROL DIVISION:
Officer Duane Jose
Officer James Creager
Observe and Report Child Abuse
Call (505) 552-6666